Thanks for coming back! As the title says, I freaking love you guys! The ones who always stay up to date with my blog, Facebook, YouTube and Instagram. You all are my truest online buddies I would do so much to have the chance to meet one day. So here's to hosting giveaways each month for the rest of the year to show my deep gratitude! The last and final giveaway I will make sure is the absolutely BIGGEST! This event is also worldwide. I'm really hoping you guys like the prizes I have for the first giveaway of October which is . . .
Prizes:
TheFaceShop's Phyto Powder In Eye and Lip Make Up Green Tea Remover
FACEit Nail Polish in "Plantinum"
Aloe Fresh Toner & Emulsion Samples
Rules:
OPEN: Worldwide!~
ENDS: November 2nd 11:59pm Central Time
MANDATORY REQUIREMENTS: Be a follower via Google Friend Connect & Subscribe to my YouTube channel.
Join here:
a Rafflecopter giveaway
Share This Giveaway:
Blog Post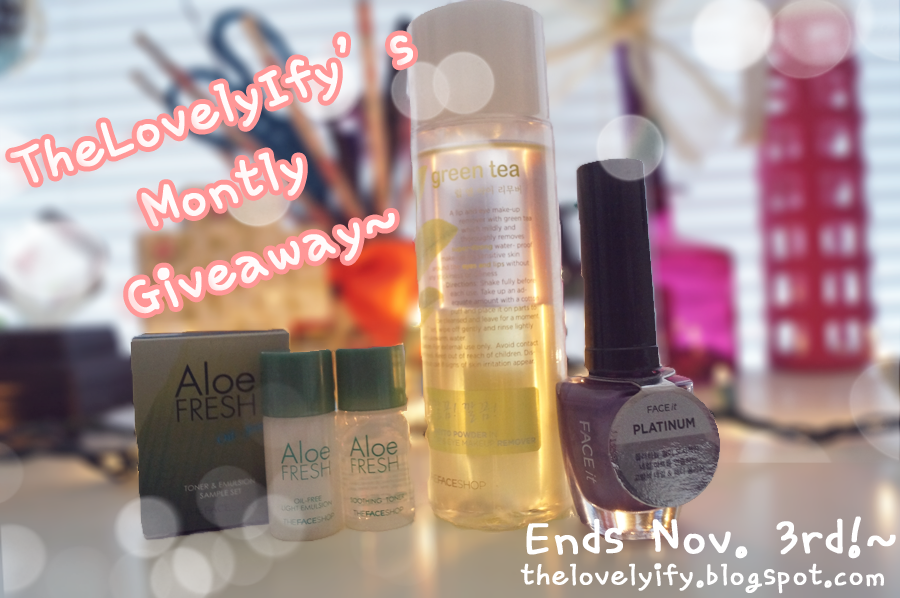 Sidebar
I personally have yet to try the make up remover but I can say that the description on the packaging that it is great for those with sensitive skin and doesn't feel thick or oily. I thought it looked really clean looking so hopefully whoever wins this loves it!
The FACEit nail polish is a lovely deep purple color that will be really trendy this season. It has a nice edgy appeal and I'm sure whoever wins it will really like it! Plus, purple is one of my favorite colors :D
I've used another sample of the Aloe Fresh Toner/Emulsion and I really liked the toner but they sadly don't sell it anymore but it they do have the gel moisturizer which I have and LOVE! It's a good brand to look into if you think you'll experience any dry skin conditions this coming season.
Good luck to the lucky winner and I will be back with another giveaway next month! You guys have about a month to make your entries! Good luck and see you in my next post!